Restaurant Name Tags / Name Badges
Our standard Name Tag / Name Badge is a plastic (1" x 3") with rounded corners as shown below:.
Call for Custom Quote on Printed Name Tags Name Badges- Toll Free - 1-800-391-3244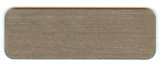 Same Day Shipping!

We offer our standard Name Tag blank with no print for .75 each in either White, Silver or Gold but printed Name Tags / Name Badges must be custom quoted.
For More Info Call Toll Free 1-800-391-3244 or Email us at info@dynamiccardsinc.com